About Brooklyn

SOERMEL LASER
2D LASER CUTTING – HIGH PRECISION LASER CUTTING

TOLERIE
SHEET METAL FORMING, BENDING, MACHINING OPERATION, SURFACE TREATMENT

SOERMEL ESPACE
3D LASER CUTTING – LASER WELDING
LASER GROWTH
AUTOMOTIVE 3D LASER CUTTING FOCUSING TO AUTOMOTIVE INDUSTRY
EXPERTISE
– ISO certification 9001 :2015
– IATF 16949 automobile certification for Laser Croissance
– BPI Label Excellency
INDUSTRY
-Military industry
– Aerospace
– Agricultural equipment
– Construction industry
– Energy
-Automotive
EXISTING MACHINERY
27 laser machines
About Brooklyn
About Brooklyn
THE WORD FROM THE PRESIDENT
"Since 30 years,
SOERMEL LASER and SOERMEL ESPACE are two major players in 2D and 3D laser cutting.
With our existing machinery, expertise and reputation, SOERMEL has achieved a position as a leader of the sector and continues to develop its services by bringing you a range of secondary operations to provide you with finished parts.
Always on the cutting edge of technical innovation, we constantly develop our service and make every effort to bring you the best solutions tailored to your needs, from the prototype to the series.
Expertise, quality, service and satisfaction are now the backbone of SOERMEL and allow us to maintain long-term relationships with our partners and customers.
This recognized qualification allows us to be a major player in crucial industrial sectors such as automotive, energy, construction, agriculture, aeronautics, industrial equipment, etc.
SOERMEL LASER and SOERMEL ESPACE are today the guarantors of a powerful team, an innovative machinery and a perfect adaptability to your environment.
Welcome to our website, we are at your disposal.
Bruno Hernandez – President.
About Brooklyn
SOERMEL organises the supply of raw material, the laser cutting, a range of secondary operations, the treatment (thermal painting, …), the final control of the product, and finally its shipment (Management on internal stock and / or customer, supply Kanban, …).
2D LASER CUTTING
400W laser power at 6kW
LEVELING
Folding: 3 folder thickness width height
NUMBER OF MACHINES AND FORMAT:
7 2D cutting machines
Up to 2000 x 4000 format
2D LASER PERFORMANCE AND MAXIMUM THICKNESSES:
Steel 25 mm
Stainless steel 25 mm
Aluminium 25 mm
Copper 10 mm
Brass 10 mm
Titanium 5 mm
Thin thickness: from 0.05 mm to 2 mm, tolerances +/- 0.1 mm
METHOD OF CONTROL
Three-dimensional machine Hexagon x = 2000 y = 1000 z = 700 mm
Profile projector: 200 x 100 mm
FARO arm
800 mm measuring column
Specific control tools for clients
SOERMEL ESPACE
The technical resources of Soermel Espace
SOERMEL ESPACE: based on its 20 years of 3D laser cutting and welding experience, we offer you a complete service: the study of your project, its industrialization, its production, its final control (dimensional control and characterization of the welds) and finally its shipment.
3D LASER CUTTING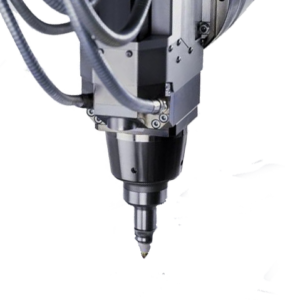 Laser power 3000 W to 5000 W
METHOD OF CONTROL
Three-dimensional machine Hexagon x = 2000 y = 1000 z = 700 mm
Profile projector: 200 x 100 mm
FARO arm
800 mm measuring column
Specific control tools for clients
NUMBER OF MACHINES AND FORMATS
5-axis machines : 3
Engraving machine: 1
TYPE OF COMPUTER FILE:
TEBIS
TOP'S 100 & 800
CATIA V5
3D LASER PERFORMANCE ON MAXIMUM THICKNESS
Steel 15 mm
Stainless steel 10 mm
Aluminum 6 mm
TOOLS
Seam tracking camera
Laser welding up to 4 m long
Our Service
24H : FROM ORDER TO DELIVERY – ZONE A
48H : FROM ORDER TO DELIVERY FOR THE REST OF FRANCE
We are able to deliver your order within 48 hours all over the country (France) and to bordering countries (Belgium, Switzerland, Germany, Italy, Spain).
Our Service
REQUEST PERSONALIZED QUOTE
Our team will answer your questions. Contact us and request a personalized quote
Team
JOIN THE TEAM
You are ready for new,
real opportunity,
Soermel Laser and Soermel Espace is constantly looking for new profiles in the areas of quality, technology or production in order to cope with its significant growth.
Team
PROJECT MANAGER
Requirements:
You have a beginner engineer training.
Know-how: technical knowledge in mechanics and negotiation.
Skills : feel comfortable on the telephone, good communication and listening skills
Job summary:
Management of requested "quotes": the request will be examined on receive, established to quote, follow-up, classify documents, etc …
Order management : the orders will be examined on receive, order entry, create and organise order and productions files, follow-up, respecting the procedures, and customer management.
CONTACT US
COMMERCIAL
Higher education Bac +4 / 5 (business school or university)
You already have a significant experience in sales and field prospecting.
Requirements:
You feel comfortable with field prospection.
Autonomy, commercial and dynamic, you are rigorous.
You have the ability to give good advice and you have listening and communication skills.
In a dynamic and friendly environment, we offer a motivating remuneration package that will be negotiated according to your profile and experience (fixed + variable + car + any tool related to your job). We also give you a real career plan.
Job summary:
You will benefit from a training about our business. Our commercial and technical team will also support you at any time.
Therefore, you will be able to deeply understand customer needs and ensure the following tasks:

-Acquisition of new customers.
-Project management,
-Able to sale our tailored products.
-Good at customer advice in a specific, complex and evolving regulatory framework.
-Make follow-up contact calls regularly
-Orders management and follow-up.
-Ensure customer satisfaction.
-Respect internal procedures and quality system.
-Report regularly to your manager
-National mobility
CONTACT US
TEAM MANAGER
Supervision of the operators, create and update working planning
Manufacture and quality monitoring manufactured parts
Capacity to decide to stop a production if the parts are non-compliant or for any other reasons.
Respect and enforce internal quality procedures, safety rules etc …
Select manufactured parts (materials, shape, dimensions, …), identify the order and distribution of layouts or cuts
Place the manufactured parts on the support and perform the shaping and cutting
Identify equipment malfunctions and apply corrective measures
Removal the manufactured parts, control the quality and isolate the non-compliance.
Fill in quality, follow-up and production form (incidents, interventions …)
Work in 3/8
CONTACT US
WAREHOUSEMAN
You will have to ensure the production and the quality of manufactured parts. Respect the instructions given for both production and security.
-Field of activity: laser cutting industry.
-To be filled immediately
-Work in 3 * 8.
CONTACT US
PORSCHE GT CUP
PORSCHE GT CUP
JULIEN ANDLAUER PARTENAIRE DE SOERMEL LASER
HISSE UNE NOUVELLE FOIS LES COULEURS DE LA SOCIETE
ET DEVIENS LE PLUS JEUNE PILOTE DE TOUT LES TEMPS
A REMPORTER LES 24H DU MANS.
PORSCHE GT CUP
Julien Andlauer : "Gagner Le Mans a toujours été mon rêve, et le faire en étant le plus jeune est un rêve encore plus énorme"

"L'équipe a fait du très, très bon travail dès le début de la course. Nous avions un rythme génial et nous étions concentrés sur le fait de ne pas rencontrer de problèmes dans le trafic. Vraiment, c'était une course parfaite."
La course de rêve, la course parfaite
Ce rêve, Julien Andlauer est allé jusqu'à le vivre à son tour, se retrouvant dimanche après-midi sur la plus haute marche du podium GTE Am, et devant une foule qui, comme le veut la tradition, avait envahi la piste et la voie des stands.
Cambell, Ried et Andlauer ont pris la tête de leur catégorie dès la troisième heure de course, pour ne plus jamais la lâcher, imposant un rythme solide et imbattable par la concurrence. Surtout, le trio n'a commis aucune erreur, affichant une implacable régularité. Jusqu'à franchir la ligne d'arrivée avec près de deux minutes d'avance sur la Ferrari #54 du Spirit of Race, à bord de laquelle figurait notamment un certain Giancarlo Fisichella.
Sur son élan d'une première journée réussie, Julien Andlauer était le plus rapide de la séance qualificative.
Sur une piste sèche et une température fraiche, Julien Andlauer conservait la première place pour aborder le virage de Tarzan en tête.
Un match à quatre débutait. Andlauer, Rovera, Hasse-Clot et Güven se tenaient en moins de deux secondes en s'échangeant les meilleurs secteurs.
A mi-course, Julien Andlauer restait sous la pression d'Alessio Rovera, tandis que l'écart s'était légèrement creusé sur Valentin Hasse-Clot et Ayhancan Güven. Chez les B, Nicolas Misslin menait la course devant Sébastien Dumez et Yannick Mallegol (RMS) lorsque Stéphane Denoual terminait dans le bac à gravier du Virage 12 à la suite d'un accrochage. À treize minutes de l'arrivée, la course était neutralisée.
Le drapeau vert était présenté sept minutes plus tard. Julien Andlauer allait chercher le meilleur tour en course pour s'assurer d'un premier succès cette saison